Free Rider 2
Posted in
Game Reviews
on February 08th, 2012 07:28 PM
This is a game built to fit a special niche of game enthusiasts: the aspiring designer. Free Rider 2 is a very basic canvas where you can create your own course and choose from a number of terrain and flight vehicles to traverse it.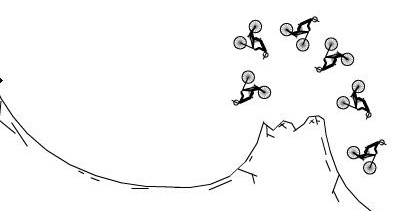 Two menus appear at the sides of the screen. A single bicycle on a precariously small two dimensional line without ground beneath it will be your starting point. Free Rider 2 leaves it up to the player how good or bad the game will be. If you're one for full immersion into a self-created environment where every detail, either crude or extensive, is up to you than you've found the right game. There are options to create themes, paths, scenery, camera angles, goals and which vehicle is the best for the course. A quick tip: if you can't ride a unicycle in real life chances are you're going to want to stick to the two or more wheeled vehicles or something a little more airborne.

If you have patience, a steady hand, some artistic ability and (this is optional) aspirations of one day creating your own games then here is the platform in which to hone some basic skills. This game literally starts the player out with nothing more than, well, a place to start. Where the game goes from there will be a different experience for everybody. That being said, for the rest of us out there who are just looking for a fun game to kill time there is what can be called the 'rushed' version. It's not called Free Rider for nothing. Drawing a very simple but long course using the mouse can be done in a matter of minutes, even seconds. Then choose a vehicle and see how far you can make it before the realistic gravity takes you down.
Comments for Free Rider 2
Add Your Comments for Free Rider 2